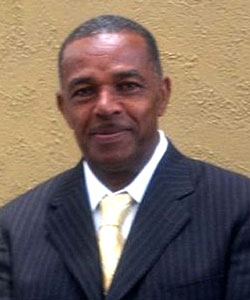 Mr. Alric Corea
Founder
Bio
Born and raised in St.Vincent, Mr. Corea, like many other people in the Caribbean, decided to make a new life for himself in the Virgin Islands, where charter boating and tourism were emerging as major industries and the US dollar provided a healthy exchange rate against the Eastern Caribbean Dollar.
The thought of having a monopoly on commercial/industrial cleaning kept him enthusiastic about business even though the general economic climate here was considered slow at that time.
During the early days Mr.Corea took advantage of every opportunity, from cleaning private homes or businesses, and yachts. At that time he called his new business, Corea's Cleaning and Maintenance Services (CCMS) but still had an interest in his full time profession, going so far as to set up his own Chandlery on Tortola: Cay Marine Chandlery, and bade farewell to his employer in 1987.
However, CCMS got its big break when the small business began receiving contracts almost simultaneously from three banks in Tortola. First Pennsylvania Bank, was the first to hire the small business.
Mr. Corea has traveled extensively to conferences and training workshops where he learnt more about the janitorial world and the workings of advanced cleaning equipment and chemicals needed to be on par with industry standards. He also became a member of the Cleaning Management Institute (CMI), an internationally recognized organization based in New York, USA.
Having been able to put a foot in the ground and establish himself as the main cleaning operation throughout the BVI, Corea's Cleaning & Maintenance Services diversified into a wholesale and retail distributorship in the late eighties, servicing large hotels and other retail and wholesale operations and later Corea's Business Services Limited was established.  His staff today is comprised of more than twenty-five workers.
Mr. Corea's extensive training and experience from travelling abroad has also enabled him to adequately train the staff. The business has grown with the times from early days when four of his five kids and his late wife Judith would assist him in selling products or cleaning part- time to a having full-time staff including administrative staff.
He has contributed significantly to the growth and development of the British Virgin Islands and has given back both professionally and personally. Over the last 40 years, Mr. Corea has worn several hats in the BVI community, these include: Volunteer Policeman and Prison Officer, Blood Donor, and Charter member of the Rotary Club of Road Town. He is also a trained Fireman.
Corea's Business Services Limited Head Office is in the J R O'Neal Complex in Port Purcell.